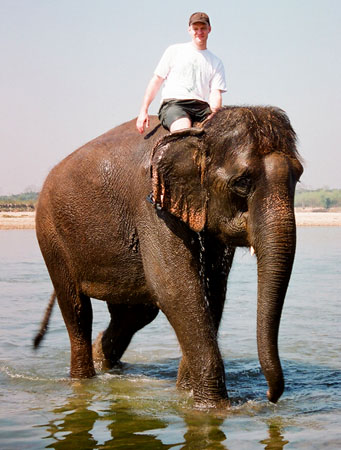 Formalities
First off, feel free to contact me at JustAProcess@Yahoo.com with any questions or comments.
I'm very proud of all the pictures on my site here and I'm honored you would take the time to check them out. Thank you so much!

About taking all these pictures
Getting these pictures has been an amazing adventure involving land rovers, cars, boats, elephants, camels, horses and even
dugout canoes in dozens of countries. Of course, it has also meant hiking literally thousands of miles in all sorts of conditions.
I have been robbed at gun point in Egypt, gotten sick to near death in India and been sampled by mosquitos, leeches
and ticks beyond count. I have repeatedly gotten cut to the bone by various jungle plants and even bitten by a centepede
in Australia.I had frostbite on occasion and I've even been dragged through mud by an orangutan in Borneo.
It's certainly not an EASY hobby.

Are these all in the wild? Are these animals in a zoo?
With the exception of Lonesome George, none of these are from zoos as in animals in cages or small fenced enclosures.
Every shot on my site is as wild as is possible. Unfortuantely, the romantic notion of animals existing far from human
interaction no longer exists for many species. Some of these animals are hanging around lodges or camps where they are used to
being fed by people. Others are habituated to humans by huge numbers of tourists like in the big safari parks of Africa.
Some of the lemurs now only exist in areas that are so small and surrounded by farms that it's hard to see it as "wild" in some
sense. But none are "models" (pets trained to pose) and none are in formal zoos or enclosures isolated from other species.
They all still have to at least sometimes find their own food and interact with other predators and prey.

What's it been like seeing all these animals?
The wildlife itself is a mixed experience. Some animals are pretty easy to stumble across. If you drive around on
Safari in the popular parks of East Africa, you're going to see zebras, giraffes, lions and elephants for sure.
Other animals like Leopard or something like a Gila Monster are incredibly hard to find and get good shots of.
Some of the animal shots on here represent months of effort, patience and hard work just for the one picture.
In some cases, it took months out hiking around before finding these animals in daylight enough for a shot.